New Container of Sg600 Solar Pump Inverter Ship to Yemen Agent in Feb 2022
05-04-2022
Thanks for Yemen customer trusting and we always offer good support with low price and good quality solar pump inveter.
Abstract: With the development of the photovoltaic industry, the working efficiency of PV panel becomes better, benefited from the development of the electronic and internet, ZK invests in R & D resources for developing a new solution, making installation simple and reliable. The new product learns experience from last generation product, and the feedback from end-users all over the world. This article will introduce SG600series solar water pump inverter.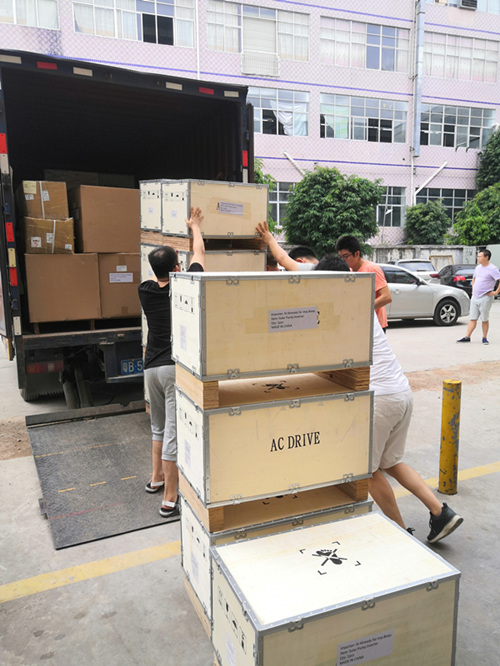 Keywords: SG600, Photovoltaic, MPPT, PV water pump
1. Introduction
Received the feedback information from the solar market and end-users, we get the following suggestion:
(1) Reduce the PV panel quantity
Because the general solar inverter need high DC input voltage.
(2) Support single phase pump.
For the civil water pump, many motors are single-phase, but the solar inverter in the market don't support single phase, only support 3-phase.
(3) Support AC/PV channels input together.
In the night, there isn't PV input energy, the pump will stop. Some project needs to keep the pump working always.
(4) Easy commissioning
The last generation product, need to modify some parameters to be suitable for different pump, new inverter can work automatically.
(5) Support remote control
People can use mobile APP or website to monitor the running status, and control the system start or stop.
In order to meet the requirement from end-users, and solve the disadvantages of solar inverter in the market, INVT developed a new product SG600. It solves all the problems the users mentioned.
2. Advantages of SG600series
(1) Be suitable for single phase and 3-phase water pump.
(2) Built-in MPPT controller and excellent MPPT algorithm for various photovoltaic panels.
(3) IP54 cabinet solution, meets various harsh outdoor environments, and can be installed in the outdoor directly.
(4) Support the boost modular less than 2.2kW, increase the PV output voltage.
(5) Support PV input and AC grid input together, realize the switching function automatically, without human intervention.
(6) Include water level control logic, avoid dry run status and added full water protection.
(7) Start smoothly for reducing the voltage spike to motor.
(8) Low start voltage and wide input voltage range give more possibilities for accepting multi PV strings configuration and different type of PV module.
(9) Digital intelligent control can flexible adjust and set pump's speed range. In addition to soft start function also can provide lightning protection, overvoltage, over current, overload protection function.
(10) Support GPRS modular, people can operate the system by website platform or mobile phone apps.