AC Drive For Motor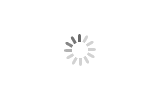 AC Drive For Motor
ZK

China

3-7 working days

200-500pcs/day
ZK's frequency inverter adopts the internationally leading filed-orientation vector control technology, which is compatible with AM and PMSM control.
While maintaining excellent performance and functions, the vfd have been significantly improved in terms of ease of use, maintainability, environmental protection, installation space, and design standards from the perspective of customer applications.
Variable Frequency Drive Product Introduction:
Variable Frequency Drive (VFD) is also be called AC drive, adjustable frequency drive, variable speed drive (VSD), variable frequency inverter (VFI). Whatever the name, VFD is a type of motor controller that drives and controls the ac motor. The VFD controls the motor speed and torque to meet the application's requirements by varying the frequency and voltage supply.
S100 series is a high performance General Purpose Frequency Inverter with current vector control. It mostly used to control and adjust the speed and torque of the 3 phase induction motor and also PMSM. It adopts mature platform of software and hardware with a high level standard design.
Frequency converter Feature:
1. Compact structure and easy to use.
2. Integration of driving synchronous and asynchronous motors.
3. High starting torque, open loop 0.5Hz 150%, closed loop 0Hz 200% rated torque.
4. Excellent control performance.
5. Advanced motor self-learning function.
6. Extensive functions are abundant.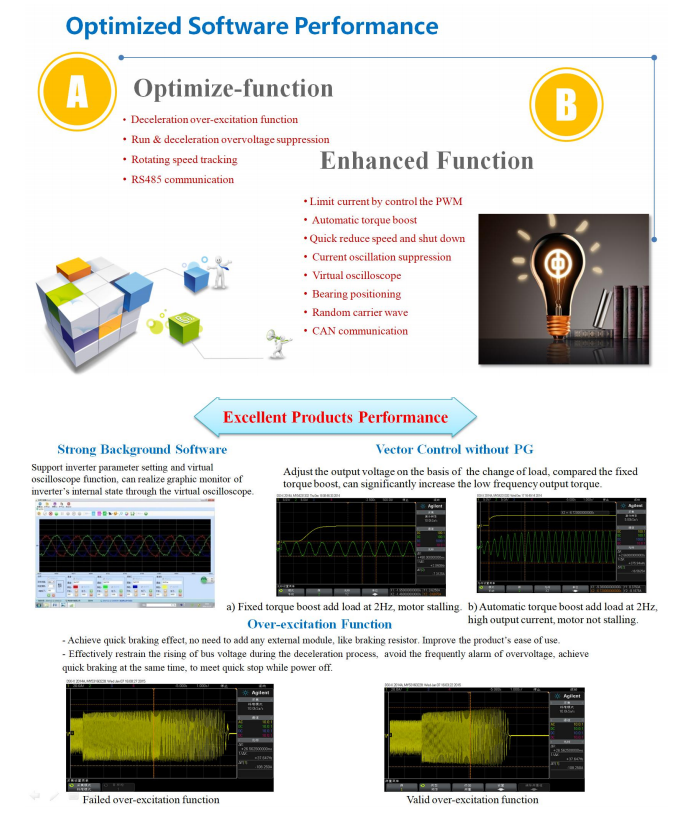 High quality hardware---quality guarantee:
1. IGBT module using:

Using the latest generation of INFINEON/FUJI brand which is the best choose for inverter application.

2. Stronger protection:

All-around test the components and temperature rise. Output ground short circuit protection,relay (contactor) actuation fault protection,brake circuit over current, brake tube over load etc protection to improve the system security.

3. Conformal coating with reliability and stabilization:

Professional design with three proofing coating process,good EMC performance.

4. Optimizing hardware design to reduce the fault:

PCB board 4 layer design to reduce "fly" wire and improve stability. 3 current sensor enhance the output protection.

5. Longer life running:

Quality components using to guarantee the inverter to have a longer life for work

6. Wide voltage design:

Full consideration of the grid voltage fluctuation and unbalance.
Operating enviroment:

1) Environment temperature -10 ℃ to 50 ℃, temperature at 40 ℃, please derating for use, derating at 3% per 1°C drop. It is not recommended to use the inverter in the environment above 50°C.
2) Prevent electromagnetic interference and keep away from sources of interference.
3) Prevent intrusion of the water droplets, steam, dust, dust, cotton wool, and metal fines.
4) Prevent intrusion of the oil, salt, and corrosive gases.
5) Avoid vibrations. The maximum amplitude can't exceed 5.9m/s (0.6g).
6) Avoid high temperature and humidity and no rain. Relative humidity is less than 90%RH. Do not allow condensation. In spaces where corrosive gases are present, the maximum relative humidity can't exceed 60%.
7) Altitude
8) The use of flammable, flammable, explosive gas, liquid or solid hazardous environments is prohibited.
Application:
High performance inverter better being used in various application with high accuracy speed control quick torque response and starting torque.

1. Textile: P-jump Winders, Extruders, Tufting Machines, spinning machine
2. Packaging: In-feed / Out-feed, Case Packing, Bottling & Canning, Carton Manufacturing. Beverage packing
3. Plastics & Rubber: Extruders, Blow Molding, Thermoforming, Injection Molding. Pulp & Paper: Paper Machines, Debarkers, Winders, Saw Mills
4. Converting: Coaters ,Laminators ,Slitters , Flying Cutters
5. Air Handling: Supply and Return Fans ,Cooling Towers ,Spray Booths ,Dryers
6. Oil & Gas: Top Drives ,Pumpjacks, Down-hole Pumping Centrifuges
7. Material Handling: Conveyors, Sortation, Palletizers, Coil Winding
8. Metals: Stamping / Punch Press, Wind /Unwind, Cut-to-length,cable drawing. Wire Draw
9. Construction Materials: Kilns, Planers, Flying Cutoff, Mixers
10. Laundry: Dryers, Extractors, Folders, Washers
11. Food & Beverage: Conveyors, Fillers, Mixers, Centrifuges
12. Automotive: Stamping, Test Stands, Indexing, Metal Cutting
13. Construction crane, hoist, lifting,