SU100 MPPT solar pump inverter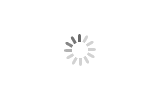 SU100 MPPT solar pump inverter
ZK

China

2-7days

300pcs/day
The latest generation of high-performance general purpose inverters; S100series VF control inverters; SU100 series MPPT solar pump inverter,etc. With speed control,torque compensation,slip compensation,energy-savingcontrol,self-learning and other advanced application functions, It can drive asynchronous motors and permanent magnet synchronous motors.
Voltage level:220V,380V,660V,power range:0.4KW-810KW
1. Main Features of solar pump system
Low carbon economy
In-built MPPT with high efficiency
Pump specific protection
Remote monitoring
Best off grid solution
Perfect stable frequency output
2.Applications
Ground water lowering,
Irrigation systems
Industrial Application
Drip irrigation& sprinkler
Tank/ cistern filling
Wildlife refuge
Rural water supply for ranches, cabins, and cottages
Fountains.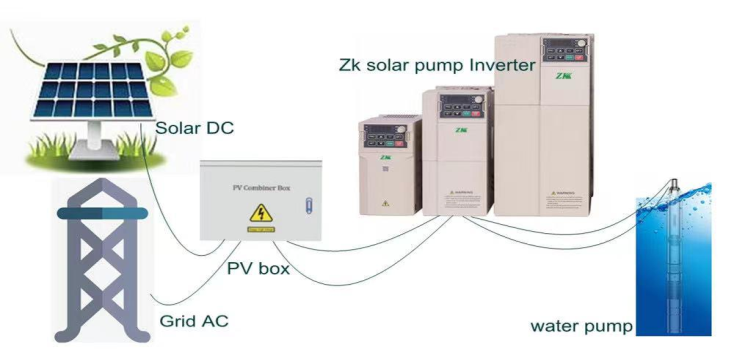 3.Technical Specification
Recommended MPPT voltage range

Vmpp 131 to 350 VDC for 1S (80V to 350VDC input, 3PH 110 to 220VAC output)

Vmpp 280 to 375VDC for 2T ( 150V to 350VDC input, 3PH 220 to 240VAC output)

Vmpp 486 to 800 VDC for 4T ( 250V to 800VDC input, 3PH 380 to 460VAC output)

Recommended input voltage (Voc and Vmmp)

Voc 180(VDC), Vmpp 155(VDC) for 1S model or 110V AC pumps

Voc 355(VDC), Vmpp 310(VDC) for 2T model or 220V AC pumps

Voc 620(VDC), Vmpp 540(VDC) for 4T model or 380V AC pumps

Motor type

Control for permanent magnet servo motor and asynchronous motor pumps.

Input power

DC power from solar arrays or AC grid power

Maximum DC power input

450VDC for 220AC output /800VDC for 380V AC output

Rated output voltage

3-phase , 110V/160V/220V. 3-phase, 220V/380V/480V

Output frequency range

0~50/60Hz

MPPT efficiency

97%,

Ambient temperature range

(G-type inverter with submersible pumps, and P type for general pumps.

Solar pump control special performance

MPPT ( maximum power point tracking), CVT (constant voltage tracking), auto/manual operation, dry run protection, low stop frequency protection, minimum power input, motor maximum current protection, flow calculating, energy generated calculating.

Protection function

Phase loss protection, phase short circuit protection , ground to phase circuit protection , input and output short circuit protection. Stall protection

Protection degree

IP20, Air force cooling

Running mode

MPPT , CVT, variable frequency mode

Altitude

Below 1000m; above 1000m, derated 1% for every additional 100m.
4.Model list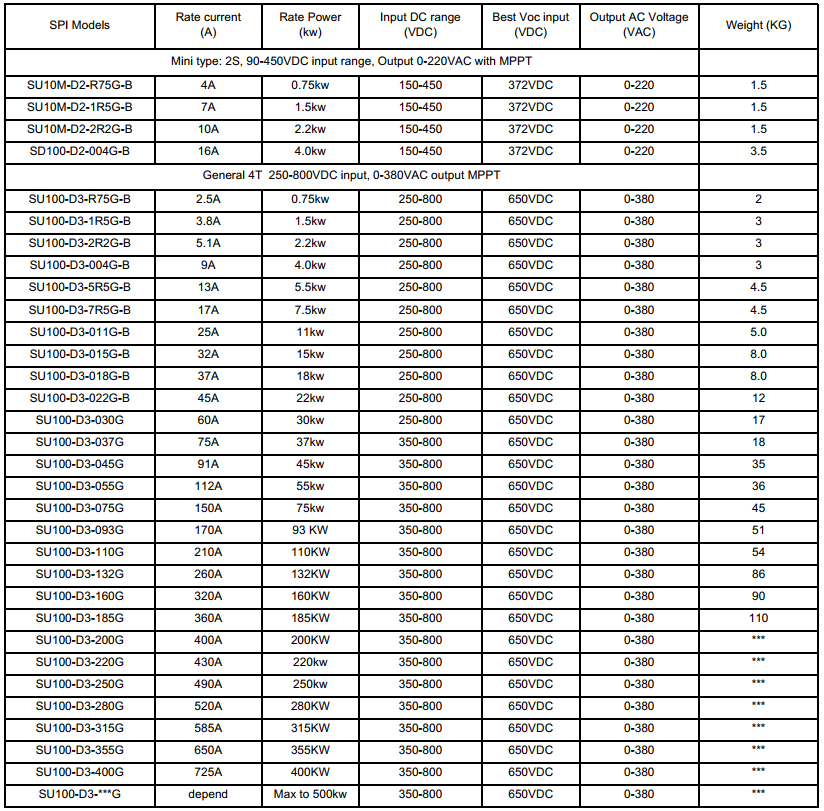 5.Wiring mode of Electrical circuit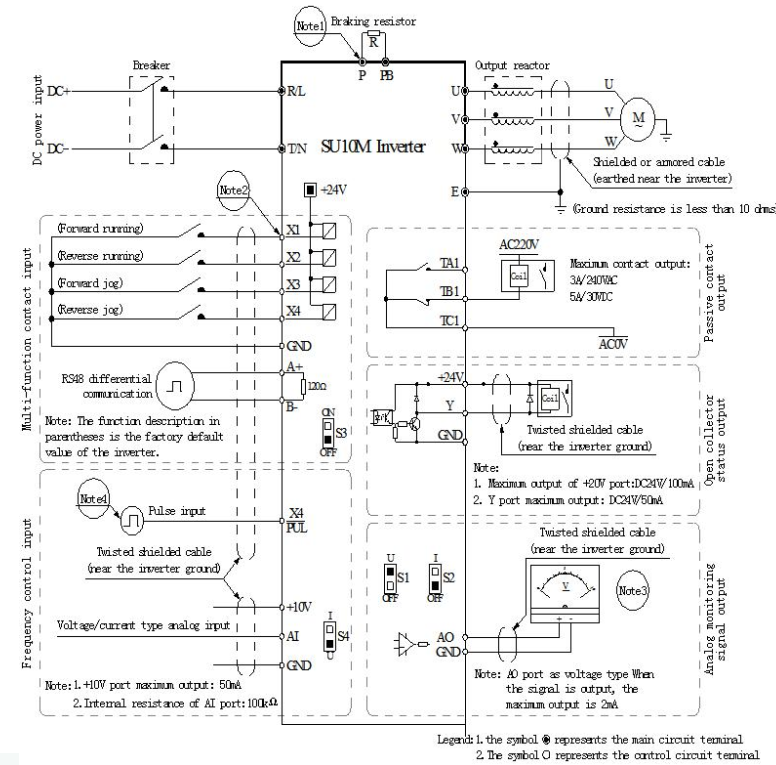 6.Application of solar pump inverter