Sun Water Pump VFD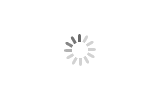 Sun Water Pump VFD
ZK

China

3-7 working days

200-500pcs/day
Solar pump inverter can be used to provide clean water resources in remote areas where power facilities are scarce; the controller can convert the direct current of the photovoltaic array into alternating current and drive various water pumps.
There are many options for you to choose: IP20, IP54 and IP65
Solar water pump inverter introduction:
ZK SG600 solar water pump inverter is a high-efficiency solar water pump controller which can make full use of solar energy to drive water pumps for agricultural irrigation, water supply system, fountains, groundwater lowering and etc.
Solar pump system constitution. It includes solar panels arrays, solar pump inverter and AC pumps.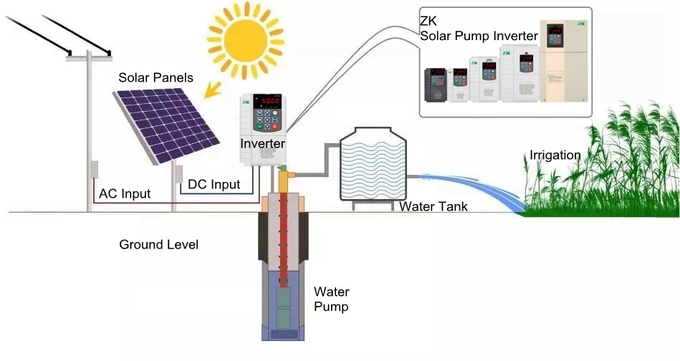 ZK SG600 single phase 3phase solar pump Inverter features:
1. Suitable for driving all 1/3 phase induction AC pumps, for PMSM high speed pumps is option.
2. Multiple control modes, local control, auto start/stop, GPRS remote control.
3. Maximum power point tracking (MPPT) more than 99% efficiency
4. Dry run (under load ) protection, Water tank fulling detect, Maximum current of pump protection
5. Low stop frequency protection, sleep/ wake up function when lack/enough of sunlight radiation.
6. Dual mode input, compatible with DC and AC power input, low and wide range voltage input.
7. The PQ (Power/Flow) performance curve enables calculating the flow output from the pump
8. Multiple pumps protection function, short circuit, phase missing, over current, over voltage...
9. Ambient temperature for using: -10 to +55˚C.
10. Drives well water pump in solar pumping system, including the Single phase pump.
11. Solar DC & Grid AC can be input at same time.
12. GPRS remote controller is optional, can monitor & control the solar pump inverter by Web or Mobile APP
Input voltage selection( how to select the solar panles):
Input voltage, power solar arrays selection

Pumps model

Inverte models

Vmp

Voc

Total Power of solar arrays

110VAC pumps

1S

130VDC

156VDC

≧ (1.3 to 2.0) rated power of pumps

It is also depend on the quality of solar panels. The more power input, the better performance.

220VAC pumps

2S

310VDC

372VDC

380VAC pumps

4T (Max 800VDC)

540VDC

648VDC
Data sheet:
Recommended input Voltage

Voc 180(VDC), Vmpp 155(VDC) for 1S model or 110V AC pumps

Voc 380(VDC), Vmpp 310(VDC) for 2S model or 220V AC pumps

Voc 650(VDC), Vmpp 520(VDC) for 4T model or 380V AC pumps

Motor type

AM and PMSM

Rated output voltage

Single phase or three, 110V/220V. 3 phase, 220V/380V/460V/480V

Output frequency

0~50/60HZ.

MPPT efficiency

More than 99.5%,

Ambient temperature range

G-type for submersible pumps, 150% rated current for 60s, 180% rated current for 2s .
P type for general pumps, 120% rated current for 60s, 150% rated current for 2s

Solar pump control model

MPPT ( maximum power point tracking), CVT (constant voltage tracking), VF for AC input

Protection function

Phase loss protection, phase short circuit protection, ground to phase circuit protection , input and output short circuit protection. Stall protection, lightning protection

Protection degree

IP20, Air force cooling (IP54 & IP65 is avaliable)

Running mode

MPPT or CVT

Altitude

Below 1000m; above 1000m, derated 1% for every additional 100m.

Ambient temperature for using

-10 to + 50℃

Technical specification of variable frequency inverter when PE00=0(solar pump disable)

voltage, frequency

1 phase 220V, 3 phase, 220V,380V, 660V, 0-50/60Hz

Control mode

0: VF control ; 1: Open loop vector control mode

2: Close loop vector control mode

Maximum frequency

0-600Hz in vector control mode, or for PMSM.

Multiple-functions

PID Control, VF control, Current Limiter, Speed Search, Momentary Power Loss Restart,16 Step Speed (Max), 3-Wire connection, Slip Compensation, Frequency Jump, DC braking, Upper/Lower Frequency, Torque control, Compatible for PMSM and IM, built in RS485.