Industrical Special Uisng VFD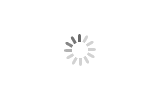 Industrical Special Uisng VFD
ZK

China

2-7days

500pcs/day
When you need simplicity and intelligence in one self-contained solution, The S100 covers a wide range of options. Ideal for variable and constant torque applications from pumps and fans to conveyors and mixers as well as many other variable and constant torque applications. Enjoy plug and play convenience right from the start. No customizing or special product engineering required.
Excellent unique ventilation design with powerful big fans.
It has V/F, OLV( open loop vector control ), CLV ( close loop vector control), Compatible with variety of encoder such as collector, differential / rotary transformer.
1). Wide speed control range
a). Sensorless open loop vector (OLV) control: 0.5 to 400Hz ( 1:100/50Hz datum point )b) . Sensor with PG card: 0.5 to 400Hz ( 1:100/50Hz datum point) Good current waveform.
2). Response speed improving
Adopting high speed 32 bit DSP to get the high speed response of frequency inverter.a) The response 100rad/s, precision ± 0.5% in sensorless open loop vector control mode. b). The response 250rad/s, precision ± 0.01% in sensor close loop vector control mode.
3). High torque output under low speed to meet some big inertia load conditions
High torque under low speed achievement. Adopting advanced current vector control technology and motor parameters detecting to make high torque under low speed is available.
4). Torque control in OLV and CLV
5). Powerful PID function
6). Stall protection function
7). Speed tracking restart function
Detect motor speed and rotation direction automatically, no any trip during start even in reverse running status.
8). S curve function
9). 16 segment speed circle running, easy to configure.
10). Advanced energy saving technology
S100 series inverter can detect the load status to control the output voltage and power factor to make motor work in high efficient mode.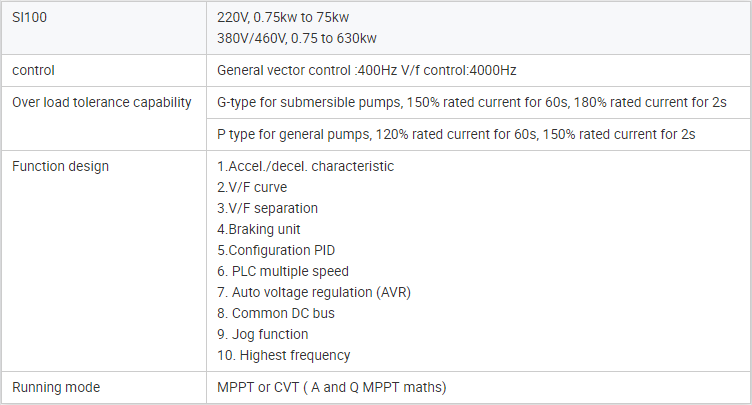 1. IGBT module using:

Using the latest generation of INFINEON/FUJI brand which is the best choose for inverter application.

2. Stronger protection:

All-around test the components and temperature rise. Output ground short circuit protection,relay (contactor) actuation fault protection,brake circuit over current, brake tube over load etc protection to improve the system security.

3. Conformal coating with reliability and stabilization:

Professional design with three proofing coating process,good EMC performance.

4. Optimizing hardware design to reduce the fault:

PCB board 4 layer design to reduce "fly" wire and improve stability. 3 current sensor enhance the output protection.

5. Longer life running:

Quality components using to guarantee the inverter to have a longer life for work

6. Wide voltage design:

Full consideration of the grid voltage fluctuation and unbalance.
| | | | | |
| --- | --- | --- | --- | --- |
| Model | Power capacity (KW) | Input current(A) | Output current(A) | Adaptable motor(KW) |
| S100-4T-0.7GB | 1.5 | 3.4 | 2.1 | 0.75 |
| S100-4T-1.5GB | 3 | 5 | 3.8 | 1.5 |
| S100-4T-2.2GB | 4 | 5.8 | 5.1 | 2.2 |
| S100-4T-4.0G/5.5PB | 5.9 | 10.5 | 9 | 3.7 |
| S100-4T-5.5G/7.5PB | 8.9 | 14.6 | 13 | 5.5 |
| S100T-4T-7.5G/11PB | 11 | 20.5 | 17 | 7.5 |
| S100-4T-11G/15PB | 17 | 26 | 25 | 11 |
| S100-4T-15G/18.5PB | 21 | 35 | 32 | 15 |
| S100-4T-18.5G/22PB | 24 | 38.5 | 37 | 18.5 |
| S100-4T-22G/30PB | 30 | 46.5 | 45 | 22 |
| S100-4T-30G/37P | 40 | 62 | 60 | 30 |
| S100-4T-37G/45P | 57 | 76 | 75 | 37 |
| S100-4T-45G/55P | 69 | 92 | 91 | 45 |
| S100-4T-55G/75P | 85 | 113 | 112 | 55 |
| S100-4T-75G/90P | 110 | 153 | 150 | 75 |
| S100-4T-90G/110P | 130 | 182 | 180 | 90 |
| S100-4T-110G/132P | 160 | 214 | 210 | 110 |
| S100-4T-132G/160P | 192 | 232 | 253 | 132 |
| S100-4T-160G/185P | 200 | 290 | 304 | 160 |
| S100-4T-185G/200P | 220 | 330 | 340 | 185 |
| S100-4T-200G/220P | 250 | 360 | 380 | 200 |
| S100-4T-220G/250P | 280 | 385 | 426 | 220 |
| S100-4T-250G/280P | 355 | 437 | 470 | 250 |
| S100-4T-280G/315P | 396 | 498 | 530 | 280 |
| S100-4T-315G/355P | 455 | 586 | 600 | 315 |
| S100-4T-355G/400P | 500 | 624 | 660 | 355 |
| S100-4T-400G/450P | 560 | 680 | 690 | 400 |
| S100-4T-450G/500P | 630 | 755 | 770 | 450 |
| S100-4T-500G/560P | 700 | 840 | 860 | 500 |