IP65 Solar Pump Inverter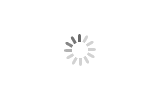 IP65 Solar Pump Inverter
ZK

SHENZHEN China

15 working days

6000 pcs per months
1. IP54 IP65 solution
2. In-built MPPT function
3. GPRS module remote monitoring
4. Support AC pump 380V/440V
5. IP55——no dead angle of waterproof and dustproof.
● High-end protection: waterproof panel, waterproof joint, waterproof enclosure.
● Enhanced end cover design, suitable for applications in harsh environments.
● Can be installed without power distribution cabinet, saving power distribution costs.
Adopts the high accuracyMPPT algorithms, tracking the PV array output by the maximum power point, driving the pump motor to meet various pump applications in agriculture, irrigation etc.
Features:

1. Supports AC&DC input:
DC solar panel input. And If no good sunshine, can use grid AC regular input work the pumps.
2. Dry protection :
If no water in the ground, the water pump will stop working automaticly and when the water comes, starts to working automaticly.
3. Automatic working:
When the sunshine not good then pumps slow down automatically and when sun become good then go on working.
4. Save cost/directly connect solar panel:
Solar panle connects solar inverter directly and to the pump. Also can control the water level in the tank. No enough water in the tank working fast, enough water will stop working automaticly. (how many water you need, you can set the parameters
5. Speed & frequency control, No need battery:
0-320hz output by Vector control/0-3200hz output by VF control.
6. RS485 long distance control / Monitor /adjust parameters by computers etc
IP65 SD600 solar pump inverter: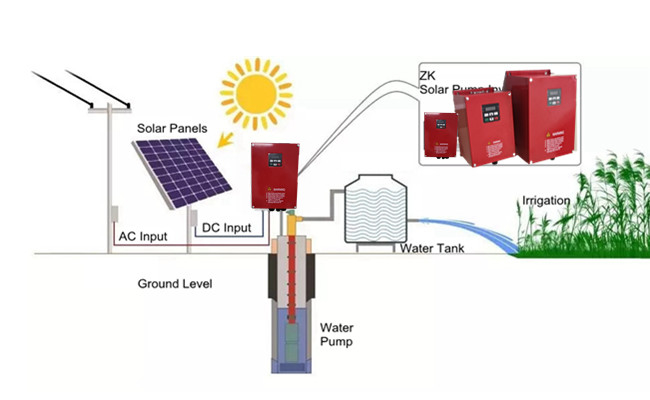 Technical Specification:
Input DC Voltage
250~800VDC, for 380VAC pumps with 2.2kw-45kw
Recommended input voltage (Voc and Vmp)
Vmp 540VDC, Voc 620VDC for 380V AC pumps
Motor type
Control for permanent magnet servo motor and asynchronous motor pumps.
Input power
DC power from solar arrays or AC grid power
Maximum DC power input
250-800VDC for 380V AC output
Rated output voltage
3-phase, 0-380V/480V
Output frequency range
0~50/60Hz
MPPT efficiency
above 99.6%
Ambient temperature range
(G-type inverter with submersible pumps, and P type for general pumps.
Solar pump control special performance
MPPT ( maximum power point tracking), CVT (constant voltage tracking), auto/manual operation,
dry run protection, low stop frequency protection, minimum power input, motor maximum
current protection, flow calculating, energy generated calculating
Protection function
Phase loss protection, phase short circuit protection , ground to phase circuit protection , input
and output short circuit protection. Stall protection
Protection degree
IP20, Air force cooling
Running mode
MPPT or CVT
Altitude
Below 1000m; above 1000m, derated 1% for every additional 100m.
Model List:
| | | | | | | |
| --- | --- | --- | --- | --- | --- | --- |
| MODELS | PICTURES | Rate current (A) | Rated Power | DC input range | Best Voc input | Output voltage |
| SD600-4KW-D-IP54 | 10A | 4.0KW | 4.0KW | 250-800 | 650 | 0-380 |
| SD600-5.5KW-D-IP54 | 13A | 5.5KW | 5.5KW | 250-800 | 650 | 0-380 |
| SD600-7.5KW-D-IP54 | 17A | 7.5KW | 7.5KW | 250-800 | 650 | 0-380 |
| SD600-4K0GB-4T-IP54 | 10A | 4.0KW | 4.0KW | 250-800 | 650 | 0-380 |
| SD600-5K5GB-4T-IP54 | 13A | 5.5KW | 5.5KW | 250-800 | 650 | 0-380 |
| SD600-7K5GB-4T-IP54 | 17A | 7.5KW | 7.5KW | 250-800 | 650 | 0-380 |
| SD600-011GB-4T-IP54 | 25A | 11KW | 11KW | 250-800 | 650 | 0-380 |
| SD600-015GB-4T-IP54 | 32A | 15KW | 15KW | 250-800 | 650 | 0-380 |
| SD600-018GB-4T-IP54 | 37A | 18KW | 18KW | 250-800 | 650 | 0-380 |
| SD600-022GB-4T-IP54 | 45A | 22KW | 22KW | 250-800 | 650 | 0-380 |